3 Great Inexpensive Designer Beauty Gifts Ideas
Whether you want to treat yourself or buy a special gift for a friend or family member, there are ways you can get designer and branded beauty gifts without expending a fortune! There are some brands that sell beauty kits, that come in a lovely package.
SPANISH: Tanto si es para ti o para alguien querido, existe la posibilidad de comprar productos de belleza de marca sin gastar una fortuna! Algunas marcas venden kits de belleza que además vienen en preciosas bolsas de aseo.
Ted Baker Beauty Kits
I recently bought this cute bag for a my zumba teacher 🙂
SPANISH: Acabo de comprar este regalo para la profe de zumba 🙂
There is a lips balm, a body lotion and a body spray and the sizes are very decent. Actually, the lips balm is big. As you can see, the packaging is also lovely, and it can be used to travel, specially for your handbag if you go to the airport.
SPANISH: Viene con un bálsamo labial, una loción y un spray para el cuerpo y en unos tamaños muy buenos. De hecho, el bálsamo labial es bastante grande. Como puedes ver, viene en una preciosa bolsa de aseo que puede ser útil para viajar, especialmente para la maleta de mano en el aeropuerto.
I also wrapped it to make it look even more special:
SPANISH: Además, lo he preparado de esta manera para hacerlo incluso más especial:
And the best part? Check the prize:
SPANISH: y la mejor parte? Mira el precio:
In addition, there is a range of Ted Baker beauty sets for a really good price that I will be trying in the future for myself:
SPANISH: Además, hay otros sets de Ted Baker por muy bien precio que estoy deseando probar:
You can check also the sizes, they are not sample sizes, they are normal size products! I'm very curious about this lipstick and nails polish:
SPANISH: Fíjate también en los tamaños, porque no son tamaño de muestra, son productos en tamaño normal! Tengo mucha curiosidad por probar esta barra de labios y laca de uñas.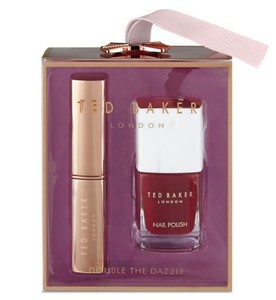 L'Oreal Luxury Beauty Sets
I always trust L'Oreal products and, although they are not really expensive, there are beauty sets that can be a really good present:
SPANISH: L'Oreal es una marca en la que siempre confío y, aunque sus productos no son excesivamente caros, hay paquetes regalo que son magníficos:
What do you think?
SPANISH: Qué te parecen?
Max Factor Beauty Set
This is one of my favorites because it brings a bit of everything, the essentials:
SPANISH: Este es uno de mis favoritos porque creo que trae todos los esenciales: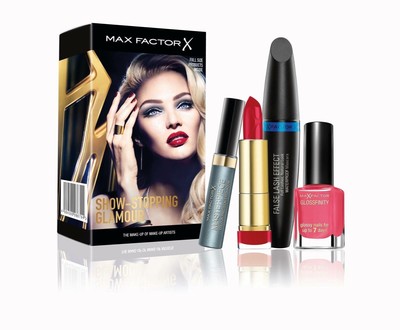 One of the best thing about these beauty sets is, apart from the price 😉 , that they are sorted very wisely (in my opinion). For example, the Max Factor's one brings a combination of colors very appropriate and the beauty creams form a complete set of skin care products.
SPANISH: Una de las mejores cosas sobre estos regalos, además del precio 😉 , es que los productos están muy bien seleccionados. For ejemplo, el regalo de Max Factor trae unos colores muy apropiados y las cremas anteriores format un kit de belleza muy completo.
I hope you like this post and would love to know your opinion about these ideas.
SPANISH: Espero que os haya gustado este post y me encantaría conocer vuestra opinión sobre estas ideas.
Lots of love,
Wha2wear